Celtic Hoops History: Billy McNeill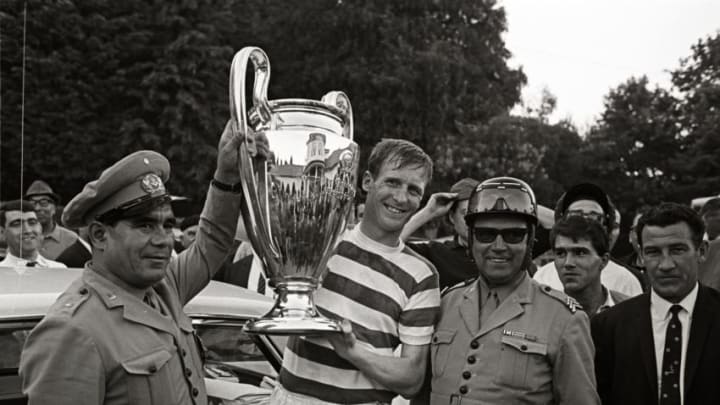 (Photo by VI Images via Getty Images) /
This week's Hoops History takes a look into Celtic's legendary defender and club captain of the 1960s and 70s, Billy McNeill.
Billy McNeill was born in Bellshill, just outside of Glasgow city centre in 1940. McNeill signed with Celtic in 1957 under their then-reserve side coach Jock Stein for £250. Allegedly, Stein moved to sign him after observing his play with some Scottish schoolboys against England.
This would be the start of Billy's astonishing eighteen-year career as a player for Celtic, where he still holds the record for most appearances in all competitions at 822.
His career began with the club in a less than desirable position, taking eight campaigns to win a major trophy, being victorious in the 1965 Scottish Cup against Dunfermline Athletic. The following season would see the Scottish First Division Championship return to Parkhead for the first time since 1954.
This would be the start of a historic run for the Hoops, winning nine straight league titles from 1966-1974. During this stretch, they would also take home five Scottish Cups and five straight Scottish League Cups (1966-1970).
McNeill proved to be a major part of this phenomenal run, captaining the squad and taking home the Scottish Football Writer's Association's Player of the Year in 1965.
He was also a major factor in the club's incredible 1967 season, the legendary Lisbon Lions. During this campaign the club would take home every trophy they competed for – League Title, Scottish Cup, Scottish League Cup, and the European Cup in a 2-1 victory over Inter Milan. This team is well regarded as the best in club history and was recently named "the world's greatest club football team of the last century" in a BT Sport online poll.
McNeill also solidified himself as a Hoops legend this same season with a monstrous header in the second minute against Rangers at Ibrox, embarrassing Sir Alex Ferguson in the process.
He would go on to be a part of the squad through 1975, with nine league titles to his name as well as seven Scottish Cups, six League Cups, and a European Championship, while being a part of a massive revitalization to the club's fortunes under Jock Stein.
McNeill would immediately make the jump into coaching, working as Celtic's under-16 coach the season following his retirement as a player. After a short stint with Clyde Football Club he made the move to coach Aberdeen in 1977. He would only manage the side for one season, taking the club to a runners-up slot in both the League and the Scottish Cup.
Returning to his Parkhead roots as manager the following season, McNeill took over a squad that had placed fifth in the league the season prior, their lowest position since 1965. He would again be a part of reshaping the club's fortune, winning three league titles in his five years there while coming runners-up in the other two, including coming behind a revitalized Aberdeen in 1980. The side would also take home one Scottish Cup and one League Cup during his tenure.
Proving his worth as a manager, Billy is credited with making key development and transfers for the club that would push them to relative success throughout the 1980s, winning four league titles and coming runners-up four times on the decade. Unfortunately, he would depart the club in 1983 for Manchester City after arguably being undervalued and underpaid by the club's management.
He would manage Manchester City for three and a half seasons, helping them gain promotion to the English First Division for the 1986 season. However, he would leave to take the Aston Villa job in September of 1986, attempting to secure the club from relegation, but ultimately failing to do so.
After stepping down from Aston Villa upon being relegated from the First Division, he would return to Parkhead for the 1987 season. This second stint, of four seasons, would prove to be less successful than his first. While the club won the league title in his first season back, it would finish no better than third in the next three seasons of league play. The squad did manage to take home two Scottish Cups in this second stint, as well as one runners-up place in 1990.
During nine years of managing his childhood club, he would post a 64% winning record in all play, while taking home four League championships, three Scottish Cups and one League Cup. He would not return to coaching again after this second stint, but for one year as Hibs' football development manager in 1998.
Arguably one of the best players to ever wear the Hoops, McNeill was a legend on the pitch and proved himself worthy as a manager for the club, with a lengthy list of honors including a total of 13 Scottish League titles, 10 Scottish Cups, 7 League Cups, and a European Cup championship. Truly a remarkable individual, he was voted by fans in 2002 as the club's greatest to ever captain a squad, as well as being a member of the Scottish Sports and Scottish Football Hall of Fames.
John Cole of the Celtic Star described his status as a Celtic legend best in 2018, saying that
"Billy McNeill personifies Celtic more than any other individual in the history of the club; you just can't have one without the other. When he signed for the club on 20 August 1957, as a raw seventeen-year-old, he set in motion a journey that would converge with that of Jock Stein and his Celtic team-mates toward a destiny the significance of which can never be out-done by any Celtic side to come."
McNeill would pass in 2019, but his memory will live on for Celtic fans.