Hoops History: Celtic's 'Mermaid', Jimmy McGrory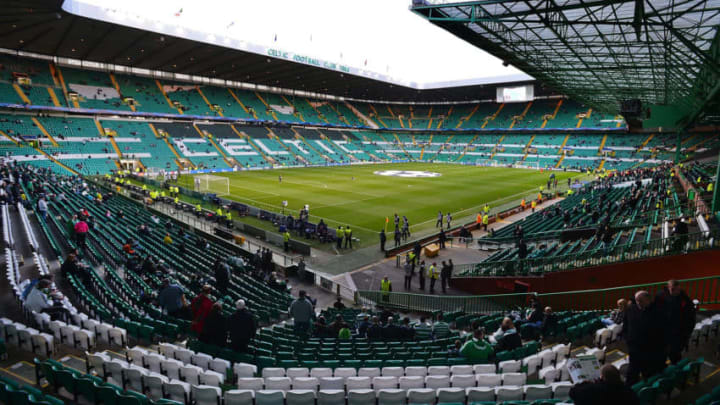 (Photo by Mark Runnacles/EuroFootball/Getty Images) /
Part One of our new weekly Hoops History will take a look at Celtic's all-time leading scorer and, later manager, Jimmy McGrory.
A Glasgow native, McGrory began his career with St. Roch's Junior Club, helping them achieve a double in the 1922 campaign winning the Scottish Junior Football League and Scottish Junior Cup. Celtic signed him after that successful season, making his first appearance in January of the next year. He went on to score his first of an eventual club record 522 goals (and Scottish Football League record of 410) just a few weeks later.
He was then loaned out to Clydebank for the majority of the next season, scoring 13 goals in 30 appearances for the Dunbartonshire squad. During the 1927 campaign just a few seasons later, he netted a stunning 48 goals for the Hoops, only to follow it up with 47 (making a whopping 62 total in all play on the year) the very next season. On 14 January of that season, he netted a still-standing League record of eight goals in one match in a 9-0 drumming of Dunfermline Athletic F.C.
After these incredible seasons, the squad attempted to sell him to Arsenal for a hefty fee at the time. Yet, McGrory would go on to reject a move to the London-side, later saying
""McGrory of Arsenal just never sounded as good as McGrory of Celtic.""
His ability to find the net never truly ceased, scoring an incredible 50 goals in the 1936 campaign at age 32. Standing just 5'6″, he had an unbelievable ability to find home on headers with his leaping prowess earning him the nickname "The Mermaid". His record of 410 career league goals in Scotland is a massive feat, and may never be beaten as the next best tally is a whopping 105 less at 305 by Robert McPhail. In all play, McGrory scored an astonishing 550 goals over 547 appearances, averaging over a goal a game- a truly stunning feat.
On top of his goals during his playing career, he also pushed the club to the top of the Scottish Football League three times, in 1926, 1936, and 1938. The club struggled to overcome Rangers' dominance during much of his career, managing to come runners-up behind them on four occasions, in 1928, 1929, 1931 and 1935. He did, however, manage to bring home five Scottish Cup titles as well as four consecutive Glasgow Cups from 1927 to 1931.
A Parkhead legend through and through, he went on to manage the club for almost 20 years after his 16-year run as a player. In the 1954 season, he managed the team to their first league and cup double in 40 years, claiming the league title for the first time in 16 campaigns.
The squad did not find much else in the way of success during his tenure, winning the league just the once in 1954 and coming runners-up the season after, as well as winning two Scottish Cups (1951, 1954) and two Scottish League Cups (1957, 1958). During the 1957 Scottish League Cup final, the Hoops did manage to defeat rivals Rangers a whopping 7-1, breaking the record for a score-line in the British Isles for a major cup final.
However, he paved the way for who is widely considered the club's greatest manager, John 'Jock' Stein, who just two years after taking over for McGrory would have the Hoops winning their famed 1967 European Cup.